​Nini Mulyani
is the wonderful woman behind
Things Unseen.
One of the things that I find most charming about her products is how each and every one is different, and assembled from pieces sourced all over the globe to be given new life as fantastic jewellery. Another striking thing about Nini is that, while most stallholders have fully-loaded station wagons, Nini can pack her entire stall into a suitcase and catch the bus, or walk. She was kind enough to chat with me about her special skill of travelling light.
"Most entrepreneurs understand that first comes a dream, then a struggle, and finally we gain achievement."
Cat: Thank you so much, Nini, for coming to chat with me about your experiences in the world of craft markets. Let's start off with a bit of background. You trade as – tell us a bit about what you make, and how you got started!
​
Nini: I am a self taught vintage-inspired jewellery artisan based in Wellington. You'll find pieces that you will not find anywhere else. I selected all the materials myself locally and throughout the world. They not only beautiful, but many of the older components would surely have interesting tales to tell if only they could speak!
Nini:
It all started with my love affair with the idea of a treasure hunt. The desire to source vintage jewellery material inspired me to sell some of them as finished pieces to support my need to rescue more of the sad and neglected tokens and trinkets of the past.
After some research, I decided to sell at craft fairs. There's something about the feeling of having someone admire your product, pick it up or try it on, and then pay you for it in front of your eyes that selling exclusively online just can't match. Call it connecting with your customers or getting a crash course in retail, but giving craft fairs a shot can be a rewarding experience when you prepare for them in advance and set your expectations wisely.
​Cat:
Copper Catkin Consulting came about when I noticed that I just kept getting asked for ideas and tips on how I set up my stalls. Part of the reason that you have been invited to guest post is that you are clearly awesome (obvs), and part is your distinctive style – the way that you really kill at packing light. So tell us, Nini, – how did you get so good at it?
​​Nini: As a market goer, my biggest challenge is not having a vehicle. I have to be creative with my displays. They need to be effective, attractive, compact, and reasonably light, so that I can take public transport or not take up too much space if another kind stall holder offers me a ride.
Cat: I think it's too cool how you rock at carrying your stall on your back, so to speak. Did you have lots of trial and error, or did it just sort of happen organically?
Nini: I often find old wooden boxes, foldable displays, ornate frames, feathers, and a vintage suitcase as my display these days. I stick with two or three dominant shades. I try to avoid plastic but somehow, I still have a soft spot for an 'ugly beautiful' plastic object. I like layers, order, and a balanced arrangement to exhibit my delicate jewellery.  
Cat: I'm offering a free mini-makeover for stallholders through Copper Catkin Consulting, to help people focus their stall offering.I emphasise 5 major principles:
​•             Dress (your stall) for success•             Keep it Fresh•             Layers•             Flavour•             Hook
As someone who's so good at keeping your displays portable without losing that je-ne-sais-quoi that defines your displays as yours, I feel that one thing in particular that you will have some advice about is 'Flavour'.

The idea is to use the 'Flavour' principle in order to give your stall a real point of difference.
Do you have any advice or comments on choosing the right 'Flavour'?
​Nini: For my displays, I play and experiment with objects I find at the op-shops. Pre-loved stuff is perfect and suits my jewellery. I rescue and show them off for their nature of perfectly imperfect material that has travelled through time. They are common objects that you see around, familiar, and yet you can't just buy them from any shop. It is somehow a Things Unseen kind of thing.​​
​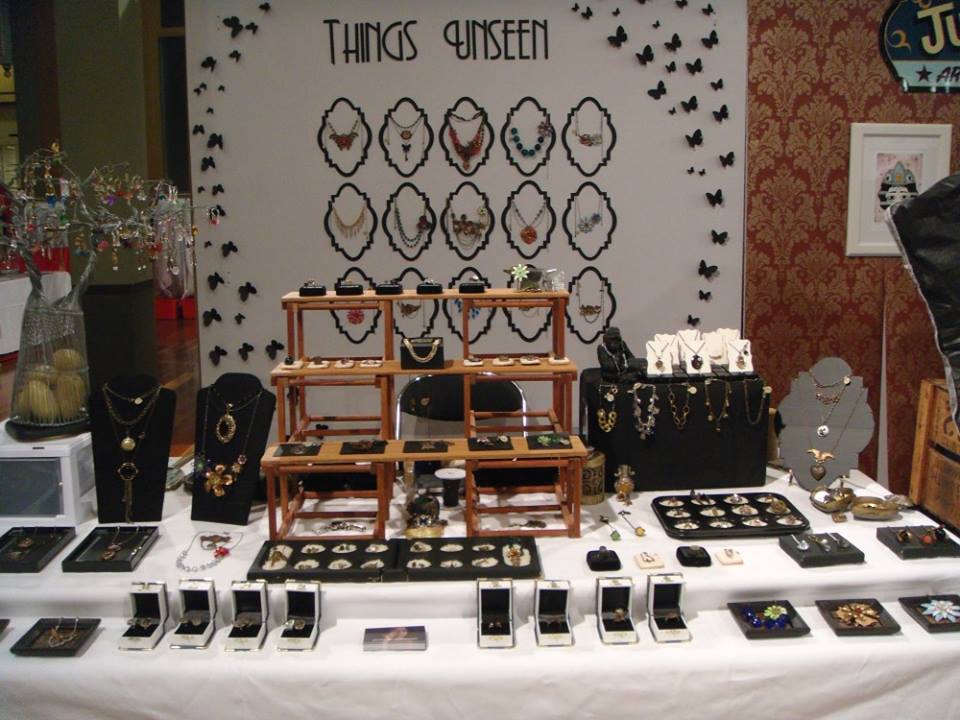 Cat: What would you say to someone who is new to selling their own creations?
Nini: It takes time, effort, and money to succeed in selling at craft fairs, so be sure to cut yourself some slack if things don't turn out exactly as planned. Remember to keep your head high, learn your lessons, and keep experimenting until you find what works for you and stick with it.
Cat: What about if someone who's been selling at markets for a while, and their sales are dropping or have hit a plateau, any thoughts?
​
Nini: 'Stickability' is the power of perseverance. Most entrepreneurs understand that first comes a dream, then a struggle, and finally we gain achievement. ​When we are willing to do today what others won't do, we will have what others won't have in the future.
Cat: Nini, thank you for your wise words, and for sharing your beautiful creations with us. See you and Things Unseen at the markets!
#WorkYourQuirk