A date amongst the blueberry bushes
My husband and I work very hard. When we're not working on
Copper Catkin
stuff, or
Wrought
stuff, or
Petone Winter Markets
stuff, or any of our other projects, we're doing housework, working on our lifestyle property, looking after our pets, or working at our actual day jobs – I'm between contracts, but George works full-time hours as well as everything else he does!
We're not very good at taking time to just enjoy each other's company and have a break – so for 2018, we have decided to make sure we have regular dates.
​
One such date was a trip out to Pauatahanui on January 13th. We had brunch at a local cafe, then we went blueberry picking at a PYO (pick-your-own) orchard. Neither of us has done PYO blueberries – we've both helped harvest fruit and veg from large family gardens, but nothing on this scale. It was a lot of fun, and we highly recommend it!
We got home, and made many things with blueberries in them, and then froze the rest of our considerable haul – it took 2 hours to pick them in the incredible summer heat, but we have savoured every berry since!
The design
I have had a couple of practice runs with my new time lapse set-up, but I decided that this was going to be the big one – the end-to-end process time lapse, from photo ideas all the way through to finished jewellery items. 
Before I got started, I made sure that I had the right kind of audio – I knew from previous experience that the length of this clip was going to be much longer than most of the audio tracks I would be able to source, so I spent some time on the
free music archive
looking for some good matches, and I was lucky enough to find Ian Sutherland's "Behind The Lines (Alternate Version)":
The clicking of the camera can be very distracting – I'm glad that I had a few practice runs before I started drawing for real, so that I wasn't overly bothered by it. It still made me feel like hurrying, but I fought the urge to rush, and worked at my natural speed. 

​I set myself up with my breakfast and all the rest of the ingredients I would need on stand-by, and I got to work.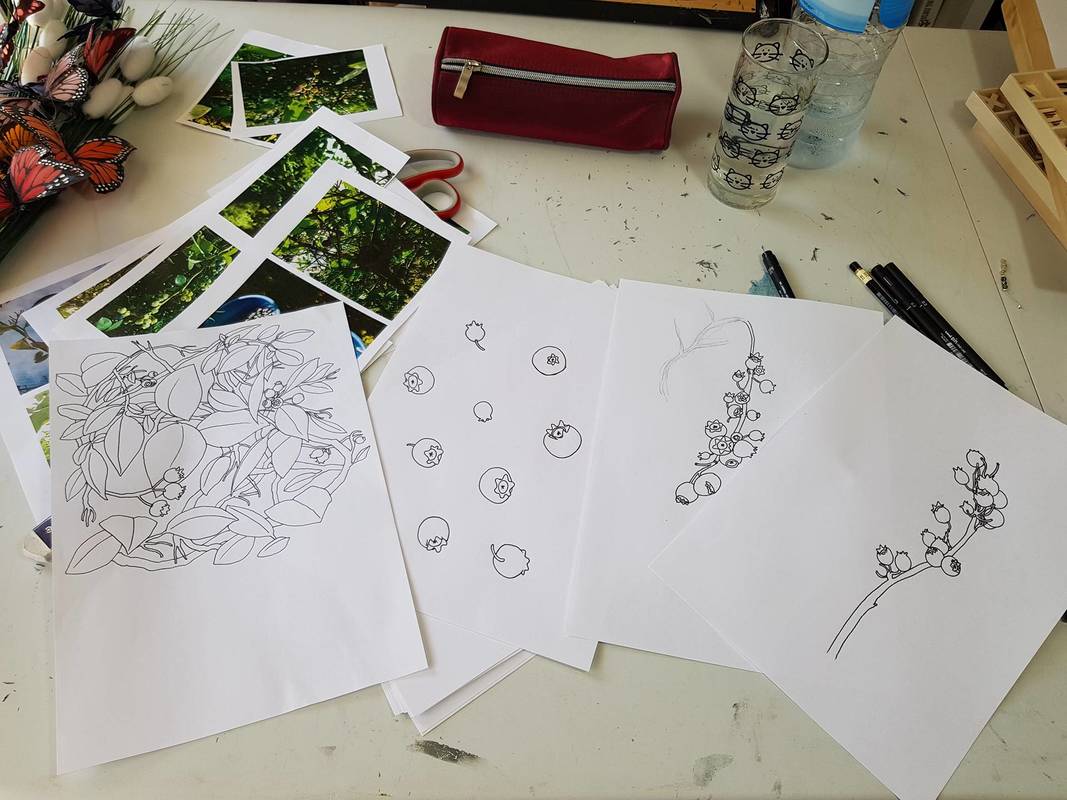 The next step is the easiest to explain, and the most time-consuming to do – I scanned, tidied up, and coloured the images digitally. Then, I used the initial drawings to build fabric repeat designs.
Because I didn't film or record this part of the process, I had to create a little animation (my first!) to represent the process. I made a separate clip of it to test it, and then incorporated it into the final video once it was up to scratch (my standards aren't too high yet, as you can see!) #closeenough
I absolutely love the way it has come out – the earrings look amazing, and I'm looking forward to seeing how the fabrics come out!
After a great many more hours of battling the application and my own very steep learning curve, I had a rough cut to show friends. I took their feedback into account, and tweaked it as best I could. Here's my 'final' version – I hope you enjoy it!