Where can we find them?
The former range of shore plover is poorly known. They were first sighted in Dusky and Queen Charlotte Sounds on Cook's second voyage, and at mudflats and sandspits around the North Island in the early 1800s. 

By the 1870s. cats and Norways rats caused the shore plover to vanish from mainland coasts.

For more than 100 years, Rangatira in the Chatham Islands had the only known population of around 120 birds. The current (2017) wild population is around 240 birds, more than half of which are in the Chatham Islands.

Today, Auckland's Motutapu Island is the easiest place to see shore plover.

They are also found on Rangatira and Mangere Islands in the Chatham Islands, and Waikawa Island in Hawke's Bay – all of which have restricted access.
Source:
DOC
Description
They all seem to look faintly offended, like those awkward photographic portraits, back when people had to try to stay very still.
​
A small stocky plover that is brown above and white below with a distinctive black (male) or dark-brown (female) face mask extending down the neck and throat, a bold white stripe above the eyes, a grey-brown crown mottled with darker brown, and white underparts. The relatively long pointed orange bill has a dark tip, the eye-rings are orange-red and the legs are orange.
Source:
NZ birds online
Drawing plovers
So I sketched a few ideas from my research, and began to work.

This was another design that required its own colour scheme, so I made another range of colour references.​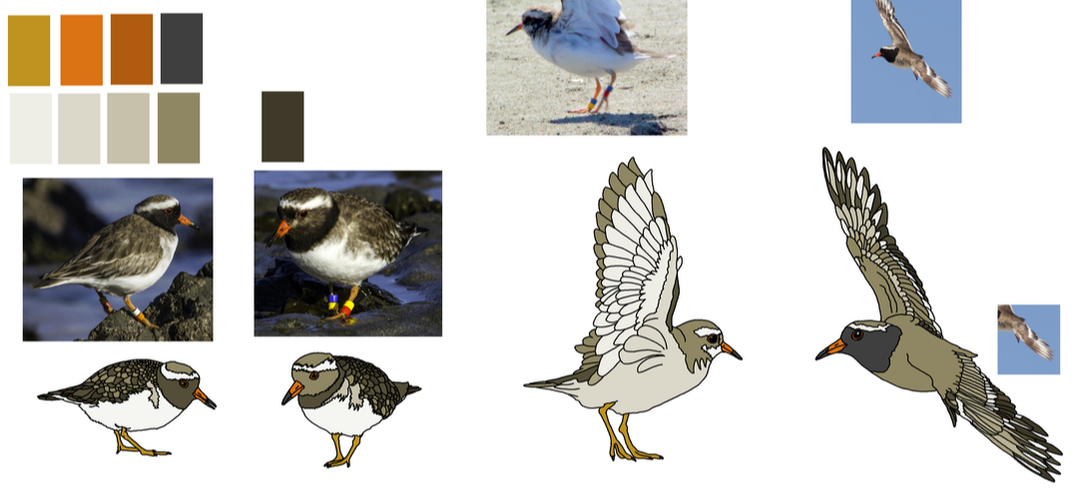 And we're all ready to roll!