What does Kōwhai mean?
"Kōwhai
 (Māori pronunciation: 
[kɔːɸai]
 or 
[kɔːfai]
) are small woody 
legume
 trees within the 
genus
Sophora
 that are native to 
New Zealand
. There are eight species, with 
Sophora microphylla
 and 
S. tetraptera
 being the most recognised as large trees. Their natural habitat is beside streams and on the edges of forest, in lowland or mountain open areas. Kōwhai trees grow throughout the country and are a common feature in New Zealand gardens. Outside of New Zealand, kōwhai tend to be restricted to mild temperate maritime climates.
The blooms of the kōwhai are widely regarded as being New Zealand's 
national flower
, although they have no official status as such.
The word 
kōwhai
 is also used in the 
Māori language
 for the colour yellow, because of the colour of the flowers."
From Wikipedia.
Botanical Block Print teatowel – the brief
"
Do you spend your weekends venturing to local botanical gardens, dreaming of the next oversized houseplant to make its way into your home? This week's challenge will be the cure to your leafy green obsession. 
While you are not required to block print for this challenge, your entry should be inspired by the block printing technique. Find 
inspiration
 and learn more about this time -honored technique from block printer and Spoonflower designer, Rochelle New. Entries will be submitted at the Linen Cotton Canvas fat quarter size (27″ x 18") but previewed during voting as a Spoonflower Special Edition Tea Towel (16″ x 24″). 
Submissions close October 10, 2017 at 3 p.m. eastern daylight time. Voting begins October 12, 2017. See official rules."
​
From the Spoonflower blog
​Kōwhai and me
The kōwhai is one of my favourite natives. Our place has at least a dozen trees planted around the house, attracting many wonderful native birds to drink the nectar and serenade us. I've played with different kōwhai designs over the years, but I've never got around to making anything. I have also played with lino cutting, but I have bad OOS and can't handle the scraping.
I started out making a lino cutting for this challenge, then I re-read the description.
"
While you are not required to block print for this challenge, your entry should be inspired by the block printing technique".
I put down away the lino, and picked up a pencil. I've done enough lino cutting to understand the technique, and how to represent it – and I think it was quite successful!
My entry
I chose to represent the print as a honey-yellow on a black background, because the richness of the yellow demanded a black background, and emphasised the 'hand-cut' effect.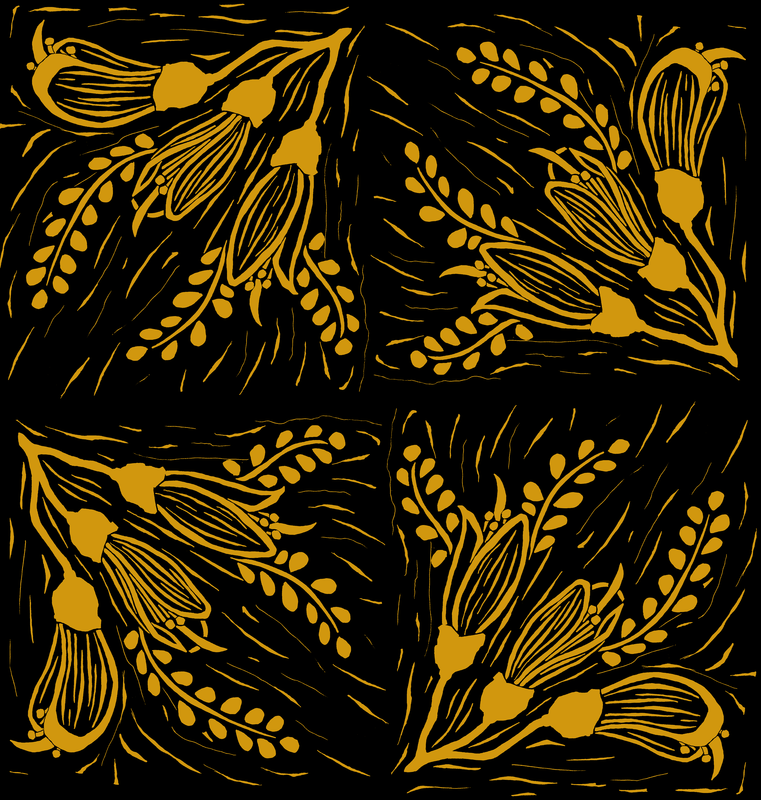 As always, ​I hope that you will vote for my entry when voting begins! 
Here it is on Spoonflower now: