A photographic tour
​When you walk around a busy craft market, you don't often get the chance to take everything in. There are so many amazing things to see that it can be a sort of sensory overload. This feeling is why I always recommend that people take one walk all the way around first, then come back for a second, more detailed look. If you only go around once, there's so much you can miss!
Round the outside
We're going to break up our visit into manageable chunks. This post will cover the first 13 stalls around the outside walls of the hall (in yellow).
Wheat Bag Buddy
​The first stall on the left as you enter the hall is Monique's Wheat Bag Buddy.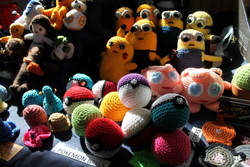 ​The Sewphist
​Libbydid
Lynne Campbell
Carry on the tour!
​Continue your visit by clicking one of the images below to see more of August's stallholders.