New design celebrating 17 famous pilots
We are attending the Yealands Classic Fighters Omaka airshow in Blenheim, New Zealand, as our last big outdoor event before we transition to winter indoor markets, and their theme this year inspired me to revisit my old "aviatrices" design from back in the day.
My Phersu Dancing Aviatrix designs
While I was still operating as Phersu Dancing, one of the first designs that I drew myself to use in my jewellery was my aviator range.

Throughout the history of aviation, there have been names that stood out and have been remembered – and many of them were women!  To celebrate this, I made a series of portraits which were available for purchase in the full range of glass jewellery.
I drew Amelia Earhart, Amy Johnson, Jean Batten, and Bessie Coleman, as well as the Red Baron.
It's times like these when you realise just how far you have come! My style has eveolved so much that, even if I could locate the originals, I simply couldn't re-use these drawings – it was time to start again. 
Choosing my subjects
There are a staggering number of women who have contributed to the history of aviation and been recorded in the annals of history – and many more, certainly, who have not. I used
this Wikipedia article
as a starting point in my triage, then came across
this useful list.
 I refined my shortlist even further, but I still had far too many options, far too many to draw, but I was having trouble deciding on my selection criteria. I decided to follow my colouring book format, and select 17 subjects.
The portraits
Eventually, I narrowed it down to 17 women over the history of aviation, who made important contributions – and had good photos available , so that I could get a good sense of their faces. Here they are, in chronological order by date of birth.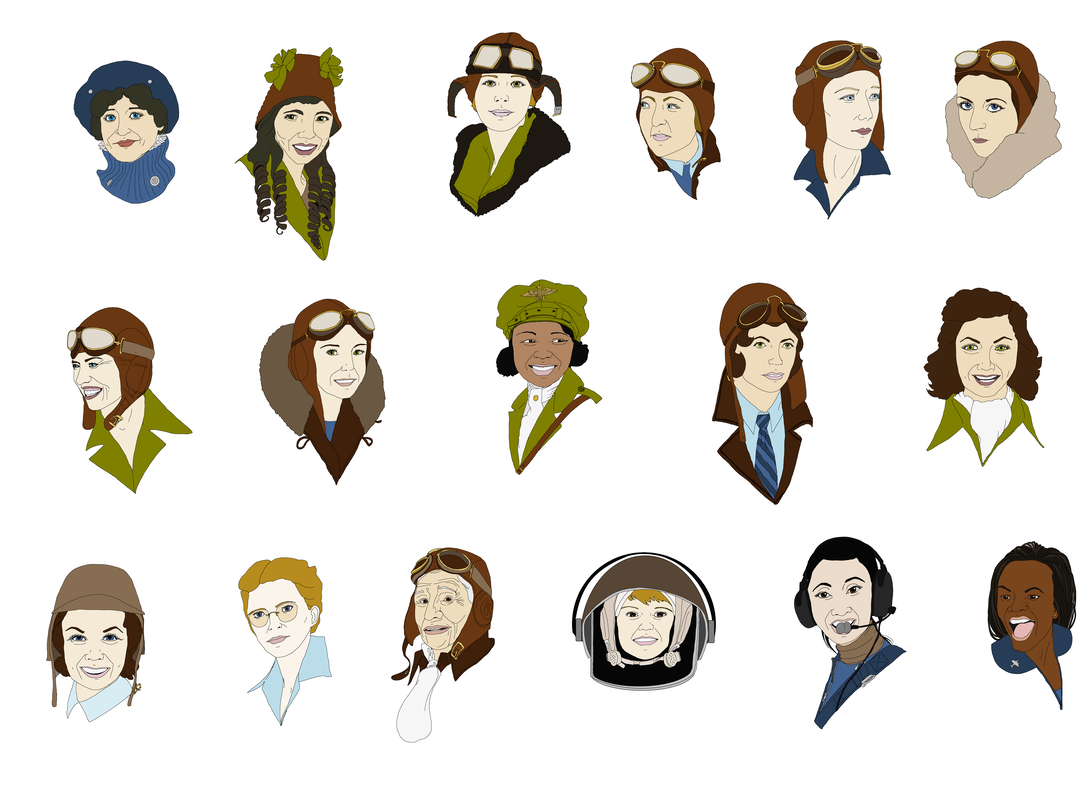 ---
---
​Elsie MacGill, OC

Canada, (1905-1980), world's first female aircraft designer, known as "Queen of the Hurricanes".

Evelyn "Bobbi" Trout

​USA, (1906–2003), set many endurance records, and was the first woman to fly all night in 1929.

​Col. Jackie Cochran

​USA, (1908–1980), first woman to fly faster than the speed of sound.
---
​Jean Batten, CBE, OSC

​NZ, (1909–1982), first solo flight from United Kingdom to New Zealand in 1936.

Elinor Smith

​USA, (1911–2010), "Flying Flapper of Freeport" who was, at age sixteen, the youngest licensed pilot in the world.

Eula "Pearl" Carter Scott

​Chickasaw Nation, USA, (1915–2005), youngest pilot to solo at age 13 in 1929.
---
​Ola Rexroat

​USA, (1917-2017), only Native American woman to serve in the Women Airforce Service Pilots (WASPs).

Betty Skelton

​USA, (1926-2011), "The First Lady of Firsts", Aerobatic Champion, and the fastest woman on Earth.

​Col. Eileen Collins

​USA, (b. 1956) former test pilot and NASA astronaut; first female pilot and first female commander of a space shuttle.
---
Capt. Wang Zheng

​(Julie Wang), China, (b.1972), first Asian woman to circumnavigate Earth in an aeroplane, first Chinese person to fly solo around the world; first Chinese female pilot to fly around the world.

Kimberly Anyadike

​USA, (b. 1994), youngest African-American female pilot to complete a transcontinental flight.
Each of these designs is available on Redbubble, Spoonflower, and will soon be available in jewellery, scarves, and colouring books.