Ok, so here's where it gets real. In order to complete my design brief for the pattern maker, Liz, I had to be absolutely accurate in my drawings of my garments. Liz
 also requested photos of me in clothes that were similar to what I wanted, with notes, as references. 
My initial sketches were useful as guides, but the only way I knew how to do it was to draw them on
my own shape
– so, as well as the reference photos, I had my husband take photos of me in fitted clothing, and then I used them to trace my actual shape. This was a difficult experience, because it's hard to face yourself at any time, but as a big girl who has lost the weight twice before, and regained it again, it's even harder, because I was acknowledging my failure to keep the weight off head-on. Still, I persevered, and came up with these.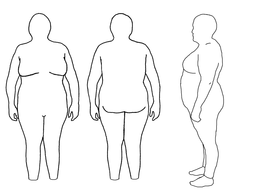 You'll notice that the heads look a bit weird – I didn't take too much time over them, because my focus was on the body shape – but as you'll see later, the head actually makes quite a difference to the way the clothes look on the body. The guesstimated heads also emphasise my bad posture, and make me look a great deal more glum and slumped than I actually was.
Still, I worked my way through it, using the shape to show realistically where I wanted each garment to sit on my body, so that Liz knew which measurements she would need, and have a diagram to show me exactly where to take them.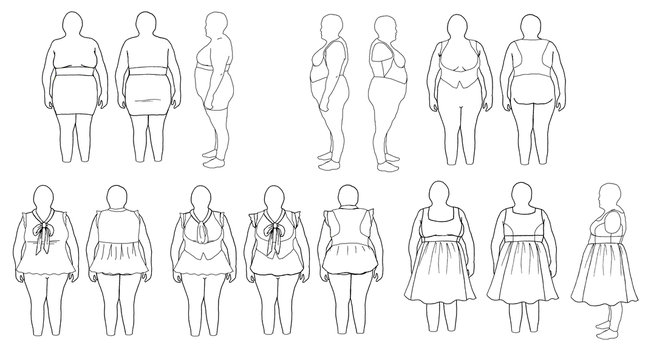 Next, I used the garment designs to 'test' my fabric designs. This is around about when the head started looking pretty weird, especially in profile.
I decided to add my hair back in, and used unnatural colours, because that's definitely a quirk I like to work 🙂
The upshot of this was that I suddenly absolutely loved the whole look – and I had so much fun playing with the little 'me' figures that I realised, this was a great fabric design opportunity!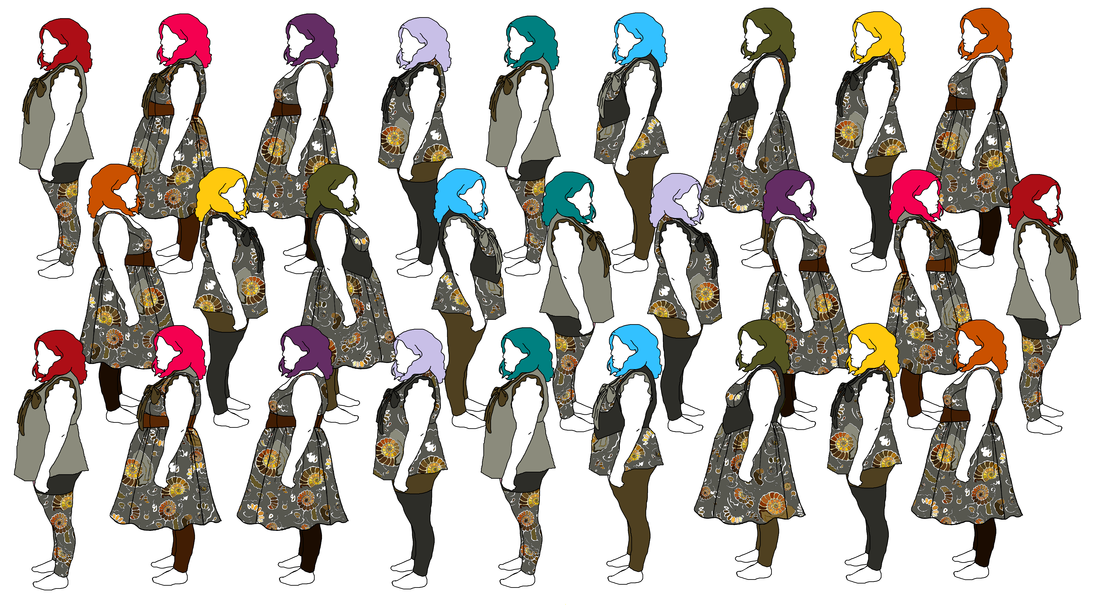 The thing is, these poses were deliberately boring – they were designed for technical drawings of garments. For a fabric, I thought something more dynamic would be good – and then I realised, what I needed was both technical (aka boring) AND dynamic photos of
all the shapes
! I could then use them to work out good fits for each shape at a design level, using the 'technical' poses, and then test the design on the dynamic poses – and then I would use those fun, dynamic poses to make fabric designs! 
So now, I'm looking for some quintessential versions of
each of my shapes
, in some really dynamic poses.