Nikki does

hand-made crochet- not your usual blankets and booties, though. She'll take on pretty much anything from science fiction and fantasy.
​What is crochet?

​Wikipedia tells us that
Crochet
 (English: 
/

k

r

o

ʊ

ˈ

ʃ

e

ɪ/
;
[1]
 French: 
[kʁɔʃɛ]
[2]
) is a process of creating fabric by interlocking loops of 
yarn
, 
thread
, or strands of other materials using a 
crochet hook
.
[3]
 The name is derived from the French term 
crochet
, meaning 'small hook'. These are made of materials such as metal, wood, or plastic and are manufactured commercially and produced in artisan workshops. The salient difference between crochet and 
knitting
, beyond the implements used for their production, is that each stitch in crochet is completed before proceeding with the next one, while knitting keeps a large number of stitches open at a time. (Variant forms such as 
Tunisian crochet
 and 
broomstick lace
 keep multiple crochet stitches open at a time.)
Where do you get your ideas?
Tell us how you came up with the ideas, Nikki!
"A geek hobby was born when I made my boss a crochet dalek in an attempt to get a pay rise! Now my creation is only limited by my imagination- and the space I have in the spare room. Dr Who, Star Wars, Pokémon, Guardians of the Galaxy and much more crochet loveliness. I can also make things to order. I'm quite new to the market scene and learned a lot from my Copper Catkin consultation."
Outpawed Raffle
​Nikki has donated a crocheted Pokéball, worth $5, to the Outpawed raffle (shown here with matching Pokéhat).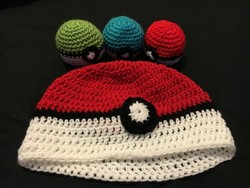 You can find Nikki on Facebook, here:
​https://www.facebook.com/ShopNikkis/
​
Tickets for the raffle will be available at the August Petone Winter Market, 10.30am to 3pm, 19th August, at the Petone Baptist Church, 38 Buick Street, Petone.
www.facebook.com/PetoneWinterMarkets
​The Petone Winter Markets are the place to buy locally made creations, snack on tasty treats, and fuel up with coffee from Ripe. Drop off the kids at the fully fenced play area while you browse our 30+ indoor stalls and take in the stylings of some local entertainers. There will be all kinds of winter woollies, magpie treasures, tasty treats, and fantastic gift ideas for all! Bring a carry bag – we're a plastic-bag-free event.
In the weeks leading up to each market, we will be running a gold-coin-entry colouring competition, featuring poster artwork by Cat Drayer from Copper Catkin. Proceeds from the competition will help local charity Outpawed with the care and management of stray and feral cats (and KITTENS) in the Wellington region. The prize is a fantastic play-date with some Outpawed kittens. KITTENS! 
Join us and help brighten these wintery weekends with some family-friendly handmade goodness!
​And did we mention KITTENS?
Enter our 
colouring competitions
 or buy some tasty treats on the day to help raise funds for our chosen cause, 
Outpawed
!
​"Outpawed is a NZ-registered charity dedicated to the care and management of stray and feral cats in the Wellington region. 
We provide shelter for wild cats and kittens, and aim to desex, socialise, vaccinate, microchip and find homes for as many of these cats as possible. We are also involved in trap-neuter-return (TNR) for cats that cannot be integrated into a household environment. Where TNR is necessary, cats are released into managed colonies where they are fed and monitored.
We aim to work with local government and other animal welfare organisations to obtain the best outcome possible for the feral cat population. Our goal is to reduce this population over time through desexing and adoption."