The kakii
Kakii, or black stilt, is a native wading bird only found in New Zealand. It is regarded by Maaori as a taonga species, a living treasure.
Source:
DOC
Once the common stilt of New Zealand, the black stilt is now critically endangered with a breeding population confined to the Mackenzie Basin of South Canterbury and North Otago. Adults are distinctive in having entirely black plumage, long red legs and a thin black bill, but juveniles and subadults can easily be overlooked amongst pied stilts, while hybrids add to the plumage confusion. Black stilts frequent the wide open braided rivers and associated wetlands of the Mackenzie Basin. There they favour shallow waters of invertebrate-rich sidestreams and pools, wading out into deep water if necessary. Some birds migrate to northern New Zealand harbours.
Source:
NZ birds online
Uh-oh, anatomy time
Yup, this is another bird with one of those complicated neck situations – not as weird as the bittern, or 
matuku
, but certainly a little more challenging than the adorable wee 
Chatham Islands black robin
.
Drawing (on?) stilts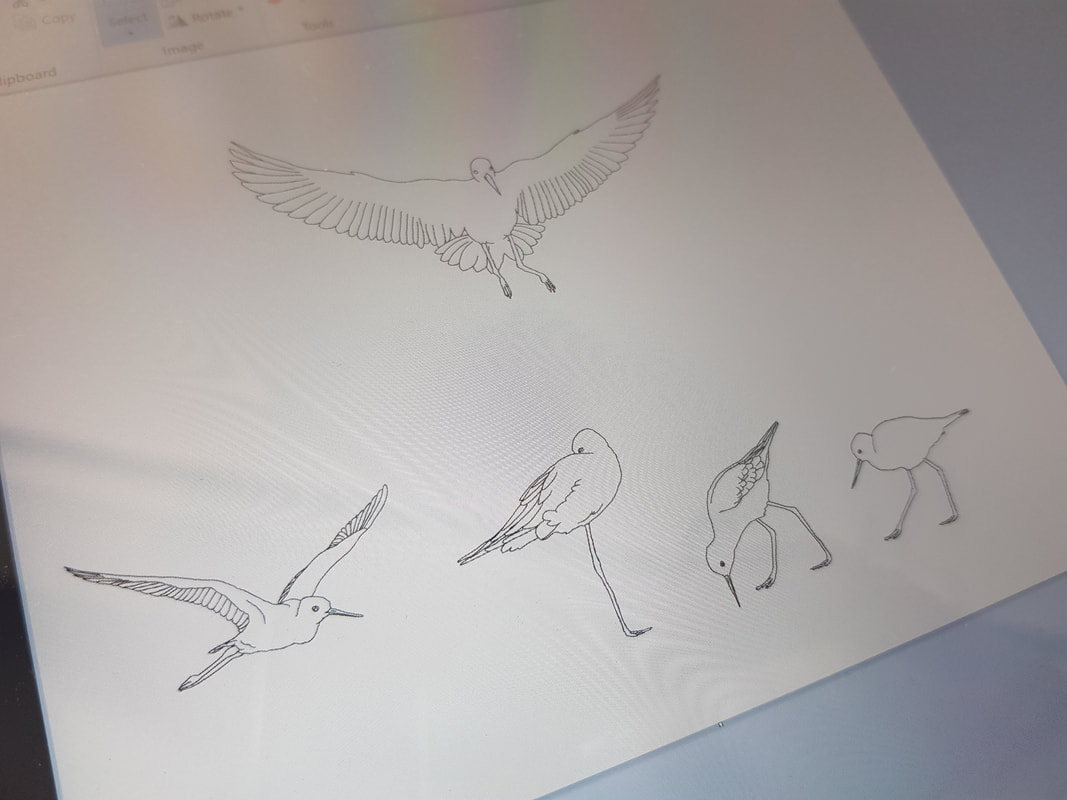 The process is definitely getting easier and faster – I can already crank out the types of poses I want to draw quite fast, then build the actual birds over the top with reference to photos and video. 
One thing that struck me, though, when I pasted in yesterday's 
Chatham Islands black robin
 so that I could keep the
colours
consistent, was that the
scale
of these birds is not consistent. 
As an experiment, I increased the size of my initial ​kakÄ« sketches to a more realistic relationship between the 40cm stilts and the 15cm black robins, but then, I realised that the bitterns should be around 75cm tall (I assume, at full stretch), and as for the albatross… It wasn't looking like an easy fix to address now, especially with so many remaining designs to finish. So, I will continue to create the images at a scale that MS Paint can handle (it crashed when I tried to work on the 4x larger file), and scale them all to each other at the end, when I do the final colouring, too. 
Perhaps I will vectorise them, perhaps I will just re-draw the ones that are going into the final "
advent calendar
" design. We shall see!
Et ​​voila!
It's really helpful to already have the plumage colours set, so I don't have to spend ages worrying about that for now, so all I needed to do was choose a shade for the legs and beaks, then make some decisions from the range of colours I have already set for black birds. Again, everything goes much faster when the decisions have already been made!
Dropping plugs
I am definitely not the only one paying attention to the plight of our local species. Many other creatives in the craft community do a lot to raise awareness, and even funds, to help a particular bird.
One of my favourite Kiwi bird artists is Melissa Boardman. Here is her take on the kakī, which is the design that I am working on today. 
​Our styles are very different, which I really enjoy, and she shares a great many of her own photos of birdlife, as well, which has helped me get to know so many lovely birds, and pay attention when I am out and about myself.
​So, of course, I had to get myself some of her work!
I hope my kakī artwork measures up!
How can you help?
It's so difficult, and overwhelming, when you think of how many creatures need our help.
One way to help the wildlife of New Zealand is to donate to Forest and Bird, who run the Bird of the Year competition.
Another option is to check out the individual organisations dedicated to a particular bird. I try to share some of their posts in these blogs, so click through and see what they are up to and what you can do to help.
There is also a section on the DOC article for each bird about how you can help. Here is an example for the black stilt/kakī: